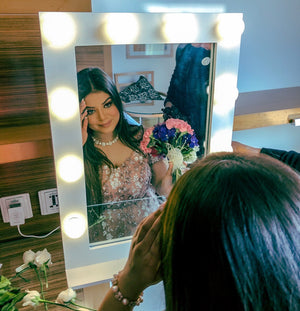 Omaara International
THE MAKEUP NINJA | HOLLYWOOD MIRROR WITH LED LIGHTS
Sale price Price Rs. 6,999.00 Regular price Rs. 10,999.00 Unit price / per
Free Shipping
Take your makeup routine to the next level with The Makeup Ninja (Hollywood Mirror). This makeup mirror comes with 10 LED bulbs that provide optimal lighting to perfect your look, making it easier to apply makeup like a professional. Makeup application has just gotten easier with The Makeup Ninja (Hollywood Mirror), a luxurious LED-lit makeup mirror that allows you to apply your makeup with precision and accuracy. Glide on your signature look effortlessly and step out with confidence. Perfect for creating glam masterpieces.This Hollywood Mirror is a premium quality LED Light Mirror. It can be used to decorate your Dressing Area, Bathroom or Powder Area.
This Mirror has 10 bright LED Bulbs with 3 color modes:
Cool White (3200 K)
Natural White (4000 K)
Warm White (7500 K)
The Hollywood Mirror provides adequate brightness for makeup in a dark room. The Lighted Mirror helps to find out minute detailing of your face. Different brightness levels give you more options to choose the brightness you need. It provides soft light not dazzling light so that your eyes will not get hurt as you make up for a long time.
Inbuilt switch to turn it ON/OFF without moving to the switchboard.
Hollywood Mirrors = Dressing room goals + makeup goals flawless makeup & hair, for taking stunning selfies & Instagram posts.
 PRODUCT DIMENSIONS 
W = 490 MM 
D = 70 MM
H = 660 MM
This professional-grade Hollywood makeup mirror is designed to perfect your makeup application. Its adjustable LED lighting lets you customize your look in any lighting environment. The Makeup Ninja | Hollywood Mirror with LED Lights is an essential tool for achieving your desired look. The Makeup Ninja Hollywood Mirror with LED Lights is perfect for achieving your desired look. The LED lights are adjustable, helping you to control the lighting and give yourself the best results. This mirror is perfect for anyone on the go, and its lightweight design allows for easy access and storage.Be a makeup master with THE MAKEUP NINJA | HOLLYWOOD MIRROR WITH LED LIGHTS! This smart, super-sized mirror means you'll be slaying the beauty game in no time. With LED lights to ensure you've got the right brightness and clarity, you'll achieve the perfect look every time. It's a makeup artist's best friend!