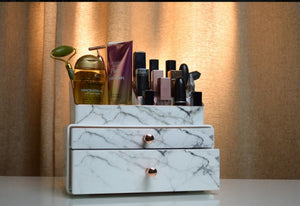 Omaara International
MARBLE MAKEUP NATION | MAKEUP ORGANISER
Sale price Price Rs. 999.00 Regular price Rs. 3,999.00 Unit price / per
Free Shipping
MARBLE MAKEUP NATION is the perfect way to declutter your cosmetics. Its unique marble finish provides a smart, contemporary look, allowing you to store and organise your makeup with ease and style. 

Small 2- drawer box with makeup organizer, set of 2pcs drawers w / metal knob.
( 1 high drawer + 1 short drawer )
white with marble printing & metallic color trim.
sizes :- 
Length :- 24 cm
Width  :- 14 cm
Height  :- 10 cm
MARBLE MAKEUP NATION is a great way to store your makeup brushes, lipsticks, and other products. It's a classy and stylish way to stay organized. With its sleek design and durable build, you can trust MARBLE MAKEUP NATION to provide an elegant and stress-free storage solution.