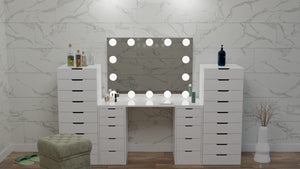 Omaara International
THE MAKEUP CITY | MAKEUP VANITY WITH LED LIGHTS
Sale price Price Rs. 64,999.00 Regular price Rs. 75,999.00 Unit price / per
Free Shipping
The Makeup City is essential for any beauty enthusiast. It features ample makeup storage and a Hollywood mirror with light settings to change your look with ease. Get the perfect lighting to showcase your makeup skills no matter the occasion. It is the perfect way to transform your beauty routine. Featuring a large makeup vanity, this product provides plenty of space for all your makeup needs. Get ready for your day in style and luxury with THE MAKEUP CITY! If you're a makeup lover, enthusiast or hoarder! Look no where else! This is the product for you! With a beautiful mirror and end number of drawers you can literally store everything you own and keep it just arms away when you're getting ready!!! 


components
One large frameless Hollywood mirror
One large table with 10 pull out drawers 
Two large storage chests with 9 drawers each.
PRODUCT DIMENSIONS :-
TABLE SIZE :-
HEIGHT =1143 MM , WIDTH = 460 MM 
MIRROR SIZE :-
WIDTH = 1050 MM , HEIGHT =760 MM
Go from "barely-there" to "glam galore" with THE MAKEUP CITY's LED-lit makeup vanity! This mirror-top makeup station is the perfect spot for you to express your beauty and style. A breeze to move, the sleek, lightweight design means you can easily cart it to your perfect prep location. Illuminate your makeup application with its LED light system and become a star in your own makeup world!