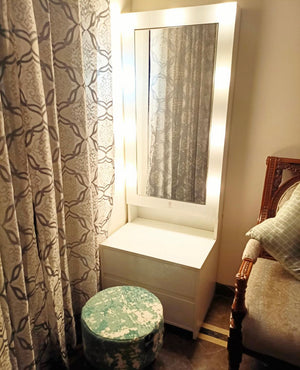 Omaara International
THE MAKEUP ICON | MAKEUP VANITY WITH LED LIGHTS
Sale price Price Rs. 22,999.00 Regular price Rs. 30,999.00 Unit price / per
Free Shipping
Bring a professional touch to your makeup routine with The Makeup Icon. This convenient vanity comes with a long mirror for precise application and color-changing lights to help you get just the right shades. The mirror also opens up to and storage for perfume bottles and other cosmetics. Perfect for makeup mavens at home! The Makeup Icon is the perfect addition to your bedroom. This long mirror vanity with LED lights helps you view your entire look, with accuracy and precision, so you can make sure your outfit is on point. It's the go-to source for grooms, brides, and beauty professionals alike.

The Makeup Icon is the most iconic new launch from Omaara International!
The Makeup Icon is the newest full size vanity in our collection!
The most amazing feature of the Makeup Icon is the 45 inch hollywood mirror which opens up as cabinet with hidden storage behind it! 
Additionally it has two drawers!
components
Long Hollywood Mirror
hidden storage behind the Mirror
Two storage drawers  
PRODUCT DIMENSIONS :
W = 640 MM
H = 1758 MM