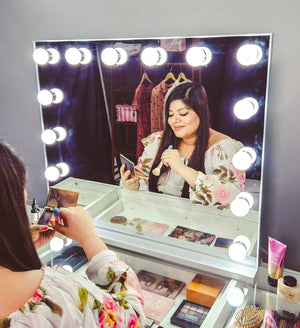 Omaara International
THE MAKEUP MINKA | Hollywood Makeup Mirror
Sale price Price Rs. 10,899.00 Regular price Rs. 19,999.00 Unit price / per
Free Shipping
Our THE MAKEUP MINKA mirror boasts a frameless, sleek Hollywood design for a chic look. Its surface is smooth and reflective for optimal viewing, making sure you get the perfect final touch for your look. It is the perfect tool for makeup professionals. Its adjustable lights, inspired by Hollywood mirrors, provide the perfect balance of natural light and shadow for the most accurate and precise makeup application. Perfect for personal and professional use.

This Frameless Hollywood Mirror is a premium quality LED Light Mirror with an aluminium body.
It can be used to decorate your Dressing Area, Bathroom or Powder Area.
This Mirror has 10 bright LED Bulbs with 3 color modes:
Cool White (3200 K)
Natural White (4000 K)
Warm White (7500 K)
The Frameless Hollywood Mirror provides adequate brightness for makeup in a dark room. The Lighted Mirror helps to find out minute detailing of your face. Different brightness levels give you more options to choose the brightness you need. It provides soft light not dazzling light so that your eyes will not get hurt as you make up for a long time.
Inbuilt switch to turn it ON/OFF without moving to the switchboard.
Hollywood Mirrors = Dressing room goals + makeup goals flawless makeup & hair, for taking stunning selfies & Instagram posts.
 DIMENSIONS  
     MIRROR SIZE :-
     LENGTH = 31.49 INCH, HEIGHT = 25.59 INCH